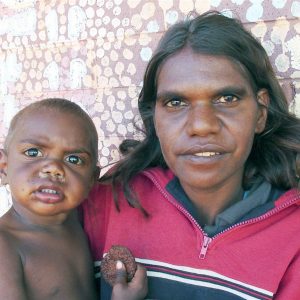 Christine Napanangka Michaels
Biography
Christine Napanangka Michaels was born in 1981 in Alice Springs Hospital, the closest hospital to Nyirripi, a remote Aboriginal community 450 km north-west of Alice Springs in the NT of Australia. Her mother is Alice Nampijinpa Henwood Michaels. She grew up in Nyirripi with her mum and dad, her Aunty Mary Anne Michaels, her sister Kelly and her brother Chris, all artists working with Warlukurlangu Artists. Her father has since passed away.
Christine went to Kormilda College, an Aboriginal boarding college in Darwin. She returned to Nyirripi when she finished school. She then spent some time at Hassell Creek, near Emu Bore outstation, a further 15km west of Nyirripi, learning how to dig for bush tucker from her parents. In 1995 she met and married Ambrose Wilson. They have four children, three sons and one daughter. They live in Yuendumu but visit Nyirripi often to see family. Christine also has family living in Kintore and Warburton, where her father's family live.
Christine has been painting with Warlukurlangu Artists Aboriginal Corporation, an Aboriginal owned and governed art centre in Yuendumu since 2006. As a young girl she watched Alice paint. She now paints alone and likes painting as it gives her a sense of self. She paints her Aunty's Jukurrpa stories, especially Majarrdi Jukurrpa (Ceremonial Dancing Skirt Dreaming) which tells the story of an important element in much of Warlpiri ceremonial activity. She likes to use bright colours to depict this particular Jukurrpa as this dreaming is colourful and joyful.
When she's not working, looking after children or painting she likes to go out with friends digging for bush tucker.