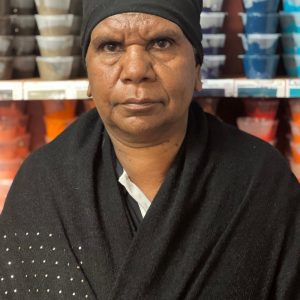 Geraldine Napurrurla Langdon
Biography
Geraldine Napururrla Langdon was born in 1968 In Alice Springs Hospital, the closest hospital to Yuendumu, a remote Aboriginal community 290 km north-west of Alice Springs in the NT of Australia. She is the daughter of Amy Napaljarri Dixon, and the Granddaughter of Liddy Napanangka Walker (1925-2017), a major Warpiri artist. She spent her early childhood in Alice Springs and went to the local school. When she was sixteen she moved to Yuendumu and completed her schooling at Yuendumu Secondary School. She is married to Jimmy Langdon and has 2 boys and 2 girls.
Geraldine began painting with the Warlukurlangu Artists Aboriginal Corporation, an Aboriginal owned and governed art centre located in Yuendumu, in 1996. She paints her father's Janganpa Jukurrpa (Bushtail Possum) – Mawurrji; Lukarrara Jukurrpa (Desert Fringe-rush Seed Dreaming) and Yarla Jukurrpa (Bush Potato Dreaming), 'dreamings' related directly to her land, its features and the plants and animals that inhabit it. These stories have been passed down by her father and his father, through the generations for millennia. "When I'm sitting down painting my 'dreamings', I feel contented. My 'dreamings' make me happy." Geraldine likes working with colour and patterns and uses an unrestricted palette to develop a modern interpretation of her traditional culture.
When she's not painting, she likes to go out bush hunting, especially for honey ants.